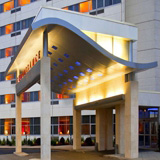 Don't Wait: A Canopy Prep Timeline

About the Provider
MASA Architectural Canopies represents an exciting approach to the pre-engineered building components market and is always pro-active in the use of materials to expand industry trends and designs. MASA's broad knowledge separates MASA from the cookie-cutter fabricators to an elite level of custom design and build manufacturers. From start to finish, design through installations, MASA provides superior execution required during each phase of your project to produce top-quality canopy systems.
Learning Objectives:
Discuss canopy design elements, as well as attachment and structural needs in order to take control of the process and drive cost.
Explain how proper canopy design determines the green building benefits such as reduction in energy usage, costs, and building emissions while promoting health and wellness.
Address specific challenges in form and function and how to deal with those challenges in the early stages to avoid late-stage revisions and higher project costs
Discuss when to use differing attachments, and how those choices affect the safety and structure of the wall surface as well as the environmental benefits of a canopy system.
Design Category:
(13) Special Construction
This Course Is Included In Upcoming Events
Up to 8 AIA HSW/LU CE Hour(s)
Up to 2 GBCI General Hour
Up to 1 IDCEC HSW CEU(s)
Up to 1 RCEP PDH(s) for Engineers
Up to 8 AIA HSW/LU CE Hour(s)
Up to 2 GBCI General Hour
Up to 1 RCEP PDH(s) for Engineers
Up to 8 AIA HSW/LU CE Hour(s)
Up to 4 GBCI General Hour
Up to 1 RCEP PDH(s) for Engineers
Up to 8 AIA HSW/LU CE Hour(s)
Up to 3 GBCI General Hour
Up to 8 AIA HSW/LU CE Hour(s)
Up to 3 GBCI General Hour
Up to 8 AIA HSW/LU CE Hour(s)
Up to 3 GBCI General Hour
Course Presenter(s)