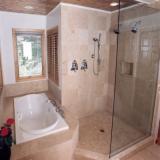 How to Use the Tools in Your Tool Box - TCNA Manual

About the Provider
Founded in 1946, Noble Company manufactures premium-quality, innovative products for the Tile, Plumbing, Heating and Cooling, and Fire Sprinkler industries.
Noble Company product applications include Waterproofing, Crack Prevention, and Sound Reduction under tile flooring. The Engineered Fluids Division manufactures freeze protection fluids for various applications such as Hydronic under-floor heating, Solar Heating Systems, Geothermal Systems, and Fire Sprinkler Systems.
Noble Company is an American-based company, manufacturing products in Michigan and Louisiana. Our products are designed and manufactured to exceed applicable industry standards and are engineered for reliability. We are proud to have product in some of the highest profile projects in the world such as the: Burj Khalifa (Dubai), City Center (Las Vegas), and Laguna Honda Hospital (California).
Learning Objectives:
Identify the changes and developments in the TCNA manual and why these changes were necessary to the industry.
Understand why the changes that were developed have benefitted the overall detailing and design criteria.
Identify common mistakes that are neglected during design and construction and explore how to avoid those issues by using the TCNA's guidelines as tool for a successful project.
We will create a methodical approach that will be able to be used for each project. The approach will cover the condition of the substrate to the installation methods.
Design Category:
(07) Thermal and Moisture Protection