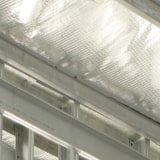 Hybrid Insulation Systems Using Reflective Technologies

About the Provider
We specialize in high performance insulation technology: reflective insulation and radiant barriers. This category of insulation is one of the fastest growing technologies in the world, and Fi-Foil offers the most diversified range of products and systems in the category. For more than 30 years, hundreds of millions of square feet of our products have been installed in residential, commercial and agricultural structures providing cost effective thermal performance. We develop, manufacture, distribute, and service this technology everyday in an effort to further solutions for the building envelope. Our insulation products and systems include: simple reflective facings for commercial buildings, unique multi-layer reflective insulation and radiant barriers for residential structures, advanced inert gas filled panels for military buildings, and other products and applications in-between. Energy Efficiency is what we do every day.
Course questions/comments
800.448-3401
Learning Objectives:
Define Hybrid Insulation Systems that incorporate reflective technology.
Learn how to improve energy efficiency with Hybrid Insulation Systems by addressing radiant heat and air leakage.
Learn how to meet higher R-values of your building envelope to meet building codes with Hybrid Insulation Systems.
Understand how Hybrid Insulation Systems support sustainable design.
Design Category:
(07) Thermal and Moisture Protection