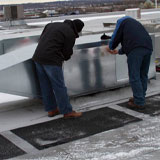 Improving IAQ Through the Use of Energy Efficient, 100% Outside Air Heating and Cooling Technologies IN High Bay Buildings

About the Provider
Cambridge has invested heavily in research and development to offer HTHV (high temperature heating and ventilation) products that significantly save energy and reduce operating costs. Whether in new construction or existing facility retrofits, Cambridge's designing, manufacturing and testing processes ensure that each HVAC system is certified safe with unsurpassed product quality. Today more than 37,000 system installations have been completed using Cambridge equipment and 2.5 billion square feet of buildings have been affected positively. Cambridge celebrates its customers' commitment to an improved working environment for people on the factory or warehouse floor.
Learning Objectives:
Describe technologies available that are some of the most energy efficient ways to heat and temper cool facilities throughout the U.S. that use 100% outside air to improve IAQ
Discuss how improved IAQ can have positive effects on worker productivity
Identify building types that can use 100% outside air technologies to improve IAQ
Illustrate how the use of energy efficient HVAC technologies can reduce the carbon footprint of industrial buildings.
Design Category:
(23) Heating, Ventilating and Air Conditioning
This Course Is Included In Upcoming Events