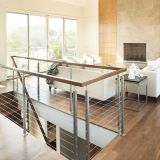 Prefabricated Ornamental Railing Systems

About the Provider
AGS is a multidisciplinary engineering firm providing services in geotechnical + environmental + civil + structural engineering, construction management and inspection, and laboratory testing. The firm, based in San Francisco with branch offices, provides a wide range of services to public agencies and private clients. Founded in 1983, AGS currently employs over 25 professionals, most with advanced degrees and professional licenses. AGS has excellent in-house support facilities including a state-of-the-art soil testing laboratory and extensive technological capabilities.Our adherence to quality assurance plans is key to our responsiveness and successful performance. Our clients speak best to the high quality of the services we have provided by repeatedly utilizing our services on multiple projects.
Learning Objectives:
Explain the advantages of a prefabricated custom railing system and an all stainless steel railing system.
Compare and contrast the railing system materials used for posts, top rails, and infill.
Describe common challenges with locally fabricated metal rail systems.
Evaluate how stainless steel railing systems meet health, safety, and welfare requirements.