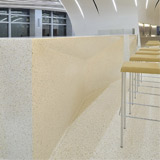 Terrazzo Versatility

About the Provider
The National Terrazzo and Mosaic Association, Inc. is a full service Non-Profit Trade Association headquartered in Fredericksburg, Texas. The association establishes national standards for all Terrazzo floor and wall systems and provides complete specifications, color plates, and general information to architects and designers at no cost.
Learning Objectives:
Explain what terrazzo is, its rich history, and why it should be specified. It will give the definition, and list components. Endless color options and various aggregates will be discussed.
Explore the green elements and sustainability of terrazzo. The original recycled flooring, terrazzo has proven to last over 100 years in buildings and survive hurricanes and flooding events.
Discuss renovation of old buildings through the use of terrazzo and restoration of old terrazzo.
Discuss the many forms terrazzo takes from floors to walls, stairs, curbs, and countertops in both interior and exterior settings. It will explain how a change in aggregate size can enhance the design. It will show how elements like LED lights can be incorporated into the floor.
Explain the types of systems available in terrazzo and their installation.
Explore a series of design possibilities for all variations of terrazzo.