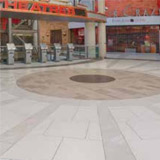 What Every Designer Should Know About Tile Installations

About the Provider
At Custom Building Products, we make your tile, stone and floor covering installations as fast, easy and durable as possible through performance-driven installation systems and support. We are known for reliable customer service and expert technical support. Custom Building Products' expert customer support team and website resources ensure that you select the right tile installation materials for your job and you know how to use them correctly.
Learning Objectives:
The program reviews factors that affect tile installation requirements and safety.
Participants will learn about the many types of tile installations –and how to choose which is best for an installation in terms of durability, safety, etc.
Participants will learn how coefficient of friction is measured and how proper floor design can reduce slip/fall risks.
The program covers the many types of grout and what factors determine how to choose the proper grout for an installation, how grout joint size is determined, when to seal an installation and what kind of sealer to use.